Think Print Is Dead? These Trends Say Otherwise.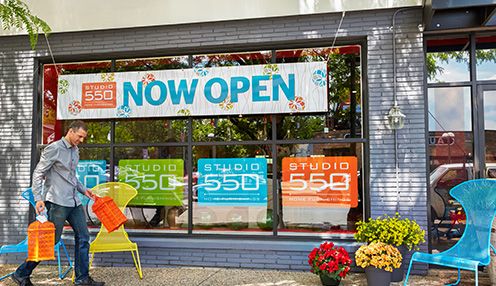 Despite the widespread belief that "print is dying," print is indeed very much alive in many forms. Though the printing industry has changed drastically over the years, it continues to evolve as a prominent communications tool within today's multi-faceted marketing landscape. And, like any industry, new trends come and go like the wind. At Minute Print, we love being at the forefront of change and innovation. That's why we're always able to deliver the most current printing services to our customers.
Let's break down some of the latest trends in printing:
Interactive Advertisements
Because people spend so much time interacting with information online, it's become more important for print materials to have some type of interactive component. Interactive printing is especially useful for product marketing, as it encourages the reader to engage with the item and creates more intrigue for the product. It is often used in the form of magazine advertisements, in-store product displays, and direct mail pieces. And, speaking of direct mail, studies continue to show that personalized, transactional messaging yields the greatest return on investment. Therefore, you can imagine that an interactive direct mail piece has an even greater impact on consumers. Rather than blast out any random mass mailing, work with Minute Print and let our team facilitate a targeted direct mail campaign that achieves an optimal response rate.
Above all, what's most interesting about interactive printing is that it creates a memorable experience for the end user. This article by HubSpot features many interactive advertisement examples that may inspire you. 
Crafty Business Cards
Who says business cards have to be boring? Over the past couple years, there has been a growing trend in crafty business card concepts, including business cards that fold, stand up like an easel, or turn into a desk prop. With limitless options, many people find value in having business cards that make a lasting statement and help them stand out from the crowd. Uniquely designed business cards also give you the opportunity to express yourself and may help break the ice during networking. They tend to be especially useful for individuals who work in creative industries, such as photography or graphic design. 
Four-Color Envelope Printing
Envelopes used to be considered an afterthought in the printing process, but this is no longer the case. A growingly popular trend, four-color envelopes add a special level of detail and appeal to your print piece and can increase the maximum impact of any direct mail campaign. The best part is that four-color printing can be done on any standard envelope. Minute Print can accommodate any four-color envelope request, regardless of order size. For any four-color project (big or small), we always deliver the highest quality and produce your project on time and within budget.  
Wide and Large Format Printing
As advertisements have become bigger and more grandiose in recent years, wide and large format printing has taken off in popularity. Many businesses are demanding large poster or display needs to supplement smaller collateral and traditional pieces. Wide and large format printing can accommodate graphics of any size, such as large display boards for trade shows, special sales, or presentations. Minute Print has recently invested in top-of-the-line wide and large format technology, allowing us to produce these types of projects at an economical cost.
Printing continues to evolve…
The printing industry continues to reinvent itself – and we can't wait to see where it takes us.  Hopefully the trends above (among countless others) have sparked your interest. With so many opportunities to capture attention, now is the perfect time to take advantage of everything print marketing has to offer.
Sources:
http://www.duplicatingproducts.com/new-printing-trends
https://designshack.net/articles/graphics/50-incredibly-clever-business-card-designs/
https://www.trendhunter.com/slideshow/print-marketing
https://www.boredpanda.com/creative-business-card-designs/
https://www.forbes.com/sites/forbesagencycouncil/2017/01/10/five-ways-to-spice-up-your-direct-mail-marketing-in-2017/#2d774f054d3e