Why Direct Mail?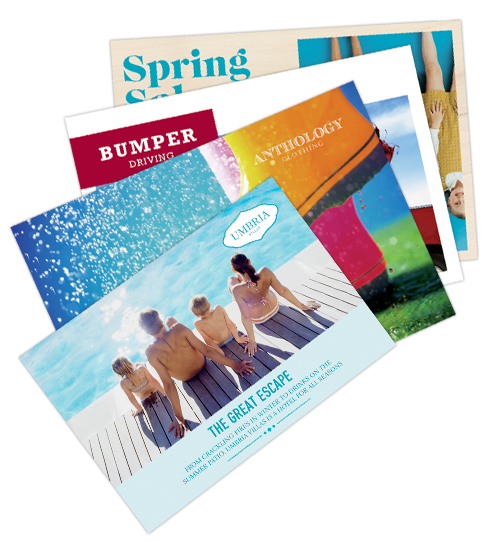 With so many advancements being made in the digital space, it's easy to forget about the vital role direct mail can have in any marketing campaign. Despite the growing popularity of electronic communication, direct mail can be an incredibly powerful and effective way to reach your audience. In fact, a recent study noted by Forbes found that 66% of direct mail is opened, 82% of direct mail is read for a minute or more, and 56% of consumers who respond to direct mail take further action to learn more about the company, business or product. With statistics like these, there's no reason not to make direct mail an integral component of any marketing campaign!
Whether you're accustomed to using direct mail or exploring it for the first time, here are some reasons to make it part of your comprehensive marketing strategy.
Direct mail is highly targeted and personalized. Unlike websites and social media, direct mail is highly targeted only for the individuals you want to reach – such as long-time customers or new prospects. Because of its targeted approach, direct mail allows for personalization of materials with names, specific messages or calls to action. Also, unlike online marketing which can generate a passive viewership, direct mail is a tangible way to make sure your message is being seen.
Direct mail is a valuable supplement to other marketing efforts. Most marketing campaigns have many moving parts, and direct mail can prove to be a valuable supplement to other initiatives. Whether it's a postcard to accompany an email campaign or a letter regarding a public relations announcement, direct mail can work in tandem with many marketing efforts to bring your brand or message to life. And, due to its versatility, direct mail can be produced in countless applications and formats - such as letters, brochures, magazines, catalogues and flyers, among many others.  
Direct mail results can be easily measured. When it comes to evaluating direct mail outcomes, forget about complicated analytics! The results of a direct mail campaign can be measured by simply tracking the number of "calls to action" taken from a given mail piece. Over the past several decades, direct mail has demonstrated a proven track record for virtually every business or industry, offering a valuable return on investment.
Above all, it's important to remember the postal service is one of the longest standing public service institutions throughout the world. Regardless of technology's many advancements, traditional mail continues to be the most reputable and respected form of communication. Incorporating direct mail in your marketing strategy is one of the smartest choices you can make to reach your audience in an effective and meaningful way.
Please allow Minute Print to consult with you on your next marketing venture and learn how direct mail marketing can be a valuable return on any printing investment.   Call us today at (716) 834-1895 to get started!